WHAT

IS

MOOMIN
LANGUAGE SCHOOL?
Moomin Language School is an immersive digital language learning service for early learning organizations such as kindergartens, preschools, primary schools, language centers and after-school clubs with children between the ages of 3 and 7. The service is based on Finnish education principles, various learning theories and research into early language learning, language immersion and child development.
We combine the use of a learning application with teacher-led playful lessons to bring children the best of both worlds. With Moomin Language School, any learning organization can start to teach a foreign language to the children in their care.
LEARNING APPLICATION
A daily dose of high-quality learning games in an easy-to-use application for children. Language learning has never been this much fun!
Children use the learning application individually to learn vocabulary, grammar and pronunciation either at the learning organization or at home. The learning application is used every day and the daily practice takes only 5-15 minutes. Short, frequent sessions have been proven to be the most effective for learning, and they keep the motivation high. Our learning application's time limit makes sure that children get only a healthy amount of screen time each day. There is a new theme each week and high-quality, multi-sensory content for each weekday. Our focus is on communicative skills, but with the various game-like exercises children develop every aspect of their language skills, as well as creativity, memory, mathematical thinking and social skills. Our language lab is specifically designed to help children practice their pronunciation with the aid of our American English native speaker model.
LESSON PLANS
Ready-made lesson plans and materials for weekly playful lessons for teachers. Bring the magic of Finnish education into your classroom!
Communication and interaction are crucial for learning a new language. That is why Moomin Language School also includes lesson plans for 30-45-minute interactive and playful group sessions once a week for small groups (ideally max 10 children).
The lessons reinforce the language learned with the learning application and build up communicative skills, collaboration skills and social skills. Children don't use any digital tools during the playful lessons – instead, the lessons are filled with social interaction, physical activities, songs, stories, and arts and crafts to help children use the new language in various contexts.
The playful lessons are run by the organization's own teachers, who will receive ready-made lesson plans and materials from us. Our service can be used by both professional language teachers and professional early educators who are not yet experienced in language teaching. Basic knowledge of the language and enthusiasm towards teaching children is enough, we'll provide the rest. Experienced language teachers can use the service to enrich their teaching with Finnish teaching methods and our large variety of activity ideas and ready-designed materials.
HOW IT WORKS
Moomin Language School uses the flipped classroom model.
This means that in any given week, children first use the learning application for 5-15 minutes every weekday either at the learning organization or at home to learn about the weekly topic and relevant vocabulary and grammar.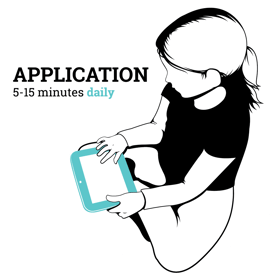 After that they have a 30-45–minute playful lesson once a week where they deepen their knowledge and use the language in a real-world setting.
This model leaves the teacher more time to focus on communication and connecting with the children, making learning more effective and engaging. It also increases children's courage to use the language by giving them a chance to practice first on their own using the learning application.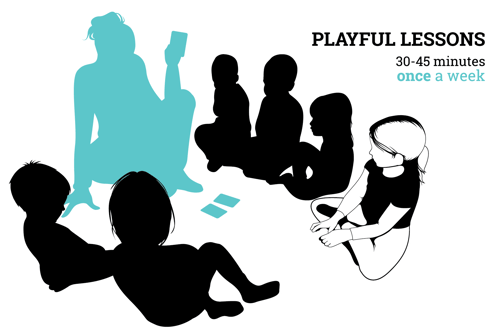 PROVEN RESULTS
Moomin Language School's primary focus is on communication, and with the service children will gain the speaking and listening skills equivalent to level A1 in the Common European Framework of Reference, meaning that they can use simple language to ask and answer questions and to talk about topics such as their background, hobbies and interests.
We partner with universities and other organizations to research the service's effectiveness, and we have academically proven results from several countries; for example, in a study done in Malaysia, first-graders using Moomin Language School scored on average 18% better than a reference group that used book material.